SLice Rink A Fall/Winter Schedule
Sugar Land Ice will switch to Fall/Winter schedule including Training classes Monday August 8th, 2022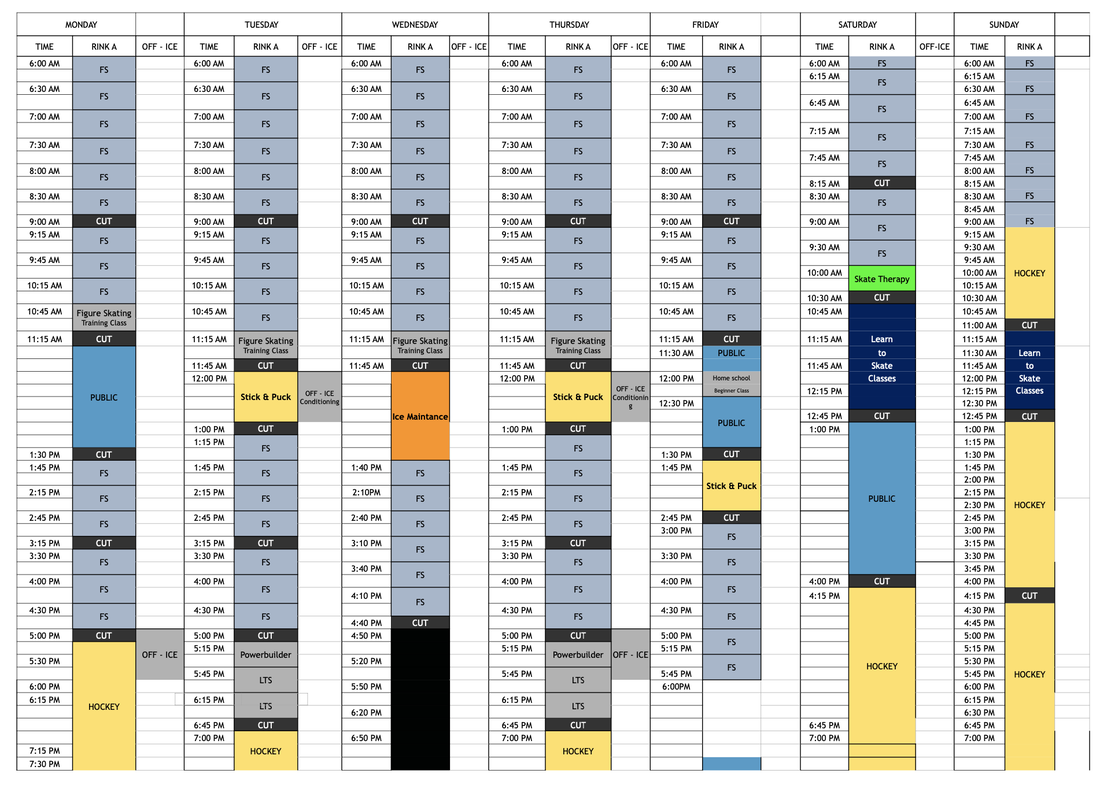 TRAINING CLASSES:Power Builder
Power Builder continues the focuses of cardiovascular endurance, agility, speed, power and skating technique in a full rink class set to upbeat music. Skaters are pushed and the improvement in their strength and fluidity will be evident.
​
Off Ice Conditioning
Becoming a strong figure skater doesn't just happen on the ice. Skaters need to build strength off the ice in order to succeed on the ice. In addition to strength exercises, skaters also do drills and agility exercises.
Off Ice Jump and Conditioning
This class focuses on jump technique and positions. Skaters will do jumping and rotational drills off the ice that will help them on the ice. The class may also consist of strengthening exercises to aid in better jumping.
Off Ice Stretch
Flexibility is a major aspect of overall athletic ability, can prevent injury, and also allow skaters to perform impressive skills. In this stretch class, skaters learn safe ways to increase their flexibility and work on building the strength needed to support it. Some common stretches that the skaters will work on are splits and back bends.
Edge On-Ice Class
Edge class will help the skater develop turns on the proper edge pattern and how to obtain additional power through development and use of their edges, i.e. three turns, counters, brackets, twizzles, and loops.
Ice Dance On-Ice Class
Ice dance features rhythmic performances to pieces of music. This Class introduces skaters to the figure skating discipline with an emphasis on rhythm, interpretation of the music and precise steps. The prime components of ice dance, such as basic edges and turns, come together for the ice dance
Spins Class
​
IJS Gold-
Focuses on the spin values and variations of positions of leveled spins based on IJS Rules.
Silver Spins-
Focus is for skaters learning basic positions of spins, as well as variations.